PMP-REIMAGINE Certification Training Course
Welcome to REIMAGINE PMP, an empowering journey by Infocareer. The PMP® certification path is both challenging and rewarding. Each year, countless individuals embark on this transformative journey, driven by the aspiration to elevate their project management skills and career opportunities. Yet, the road to PMP success often presents hurdles. With over 50% of PMP exam-takers facing setbacks, be it uncertainty, preparation gaps, or unexpected barriers, there's a need for a different approach.
Enter REIMAGINE PMP: Your personalized solution. We recognize your commitment to becoming a certified PMP and understand the hurdles you've encountered. Whether you've hesitated before or experienced setbacks, our program is designed to cater to your unique needs, guiding you towards PMP success in a way that's tailored just for you.
Meet Our Mentors
All our mentors are PMI Authorized training instructors having industrial experience of 30+ years.
Our team of Mentors comprises highly experienced and certified PMI-ATP instructors, dedicated to guiding and supporting you throughout your PMP journey with their expertise.
Partner with Infocareer to access a network of certified PMI-ATP instructors with extensive industry experience and a deep understanding of project management, ensuring top-quality training.
Why Infocareer PMP-REIMAGINE?
Infocareer PMP-REIMAGINE shines as a guiding light, designed exclusively for those who've completed the Introduction to PMP® course but are yet to conquer the exam or are seeking a fresh path to success. Here's why our program is the ultimate catalyst for your PMP dreams:
In sum, Infocareer PMP-REIMAGINE isn't just a course; it's a passport to reignite your PMP journey. Immerse yourself in our mentor-powered, personalized approach. Let's rewrite your aspirations into accomplishments, toppling odds with our unwavering support. Your PMP certification isn't a distant dream—it's a reality within grasp, guided by PMP-REIMAGINE at every step.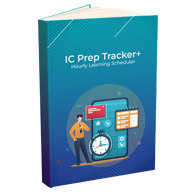 IC Prep Tracker+: Hourly Learning Scheduler
The Infocareer PMP-Assure journey starts with the Mentor creating a personalized plan for the PMP Aspirant, considering their declared target date. An 'Activity Tracker' is supplied for weekly updates, enabling progress tracking and ensuring accountability throughout the journey.
IC Application Assistance: Trouble-free application approval
To mitigate application process challenges faced by PMP aspirants our mentors conduct a thorough review of PMP aspirants' eligibility, project experience documentation, application requirements, project summaries, and supporting documentation. Aspirants receive a sample template for creating a draft application, which is then revised based on feedback before entering the details on the PMI site. A final verification step ensures a smooth submission process, minimizing any potential issues.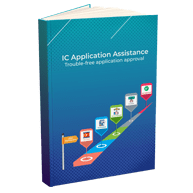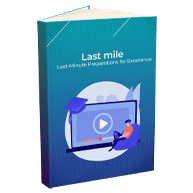 Last Mile: Last-Minute Preparations for Excellence
Elevate your PMP certification exam preparation to new heights with this comprehensive and concise audio lecture. Packed with valuable tips, techniques, and a summary of all topics, it equips you with effective strategies to streamline your last mile preparation and ensure exam success.
Road to project success: E-learning Companion
Discover www.roadtoprojectsuccess.com, a one-stop destination for comprehensive PMP preparatory online resources and exam preparation materials. Based on PMI Jan 2021 ECO, this platform offers complete coverage of all topics. Access videos, PowerPoint presentations, flashcards, supplementary materials, downloadable templates with sample projects, an ebook, and additional prep resources for practical usage and effective exam readiness.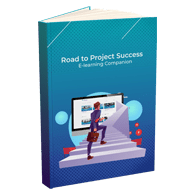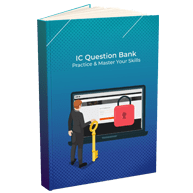 IC Question Bank: Practice & Master Your Skills
Infocareer's Learning Management Portal provides PMP aspirants with an extensive range of question bank aids to enhance their exam preparation. Topic-wise practice tests, categorized as Beginner, Intermediate, and Advanced, enable learners to assess their knowledge. Additionally, mock exams are conducted after completing all chapters, simulating the actual exam format and instilling confidence for success.
Mentorship: Transforming Career Potential
PMP Assure offers a distinctive mentoring support system for aspirants in various forms. The program spans 180 days, beginning with a planning exercise tailored to the PMP aspirant. Adherence to the scheduled activities is crucial, given the time-bound nature. The mentoring program includes regular interaction, feedback, and performance evaluation, providing valuable guidance and keeping aspirants on track.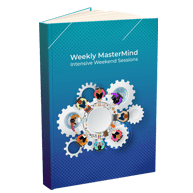 Weekly MasterMind: Inspire, Connect, and Thrive
Enhance your PMP certification preparation with our immersive Weekend Master Mind A sessions. Engage in interactive two-hour sessions, covering two chapters weekly, moderated by Subject Matter Experts. Interact with peers, expand your knowledge, and explore 20 PMP exam-like questions per chapter for valuable insights into answer choices. Unleash your full potential with these sessions.
Beyond Training: After-Training Support: Across Multiple Channels
Get comprehensive support throughout your mentoring period. We offer email and telephone support for all PMP aspirants. Telephone support is available Monday through Friday, from 10:00 am to 7:00 pm, while email support is accessible every day. Expect a response to your emails within 24 hours. Additionally, connect with facilitators conveniently through WhatsApp for further assistance.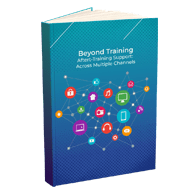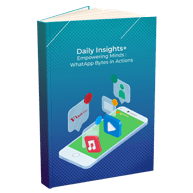 Daily Insights+: Empowering Minds : WhatApp Bytes in Actions
Stay engaged and motivated in your PMP preparation, even amidst busy work commitments. Join our daily WhatsApp group for a dose of learning and inspiration. Receive a flashcard, a question, and a success story each day. Participating in this group enhances your overall PMP readiness and serves as a constant reminder of your commitment.
Test Your Mettle: Your ticket to Exam: Test Your Readiness with Mock Exams
Assess your readiness with a comprehensive mock exam upon completing all topics. This crucial step in your preparation determines the optimal time to take the final PMP exam. The mentor and aspirant collaborate based on the assessment outcome, making a Go/No Go decision. It's a pivotal milestone in your overall journey.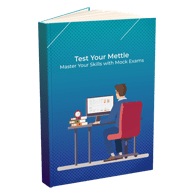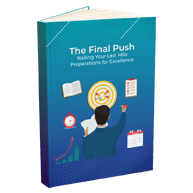 The Final Push: Nailing Your Last Mile Preparations for Excellence
Optimize your PMP preparation four days before your scheduled exam by undergoing three to four comprehensive assessments. Analyze the results to identify any knowledge gaps and receive tailored guidance from our mentors to address them. Fine-tune your readiness for the exam and boost your chances of success.
Acing the Big Day: Expert Guidance for Exam Success
Receive a pre-exam call with your mentor to combat exam anxiety and gain valuable guidance on exam approach. Prepare yourself mentally and emotionally for the exam, ensuring a focused and confident mindset. Leverage the support of your mentor to optimize your performance and boost your chances of success.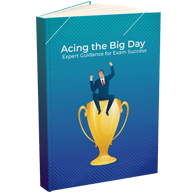 Infocareer PMP® Assure Roadmap
The duration and effort to be committed by the PMP® aspirants are indicated in the following roadmap: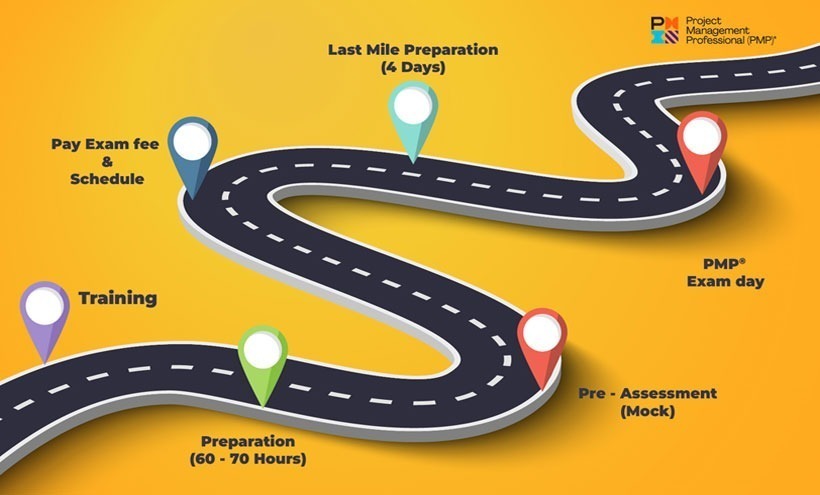 The roadmap is a two-stage approach. With the PMP® training which is a knowledge transfer session being the first stage followed by Mentoring which will help you prepare for the certification.
Infocareer Mentoring Roadmap
The various touch points of the mentoring program are depicted in the picture below.
All PMP® aspirants should be aware of this 180-day duration. However, the constant interaction and feedback from the mentor will keep the aspirants informed on their performance and their timelines.
Frequently Asked Questions (FAQ)
Can you tell me a few details about the program?
Project Management Institute (PMI, USA) is a world recognized body that promotes the discipline of Project Management. PMI also conducts an internationally recognized certification exam called Project Management Professional (PMP) certification. This certification is valid across the globe across industries and is rapidly becoming the de facto standard for project managers.
To train prospective students for the PMP certification, Infocareer is conducting a 40 Hours training and mentoring program called Infocareer PMP Assure. The program is intended to train the candidates in three domains People, Process and Business enviornment in Traditional, Agile or Hybride approaches.
The training from Infocareer involves a 40 Hours intensive training program for 5 weekends with 5 months of post-training support. Upon completion of the course, the candidates would receive a certificate from Infocareer which Premimum A.T.P. (Authorised Training Partner) for PMI,USA, which makes the candidates eligible to take up the PMP examination.
What do you mean by 35 contact hours?
You will study the global Project Management practices based on PMI Standards through 35 Hours of training program as per PMI guidelines and course materials. which is one of the requirement for writing PMP Exam.
Is the certification valid globally?
Yes. The certificate provided by Infocareer as well as the PMP certification are valid globally across industries.
(More then 200 + countries)
What is the validity for the certification given by Infocareer?
The course completion certificate provided by Infocareer is valid for life. This certificate is mandatory for you to take up the PMP exam.
Is the passing guaranteed?
There is no guarantee provided as it depends upon the interest levels of each individual. But, we provide a consistent and well tested mentoring methodology to help you pass in the very first attempt.
Where should I take exam?
You have to write the exam online at a Pearson VUE center or Pearson VUE Online proctor based exam .
After the course, how many days do I need to prepare for the exam
If you follow our preparation methodologies, you can clear the PMP exam with in 100 Hours without reading any books, You need to just see our vidoes and practices exam. A day wise tracker will given and weekly mentored. After compleation of materials, we will access and check your readiness for exam.
Is the membership Mandatory
No, But if you are member you can get access to pmi resources and get discount in exam fee. You will get official access 20 plus standards of PMI and lots of resources like Magazines, survey results, eBook, participate in PMI events,etc.,
What is the validity of the PMP® certification?
"The PMP certification is valid for 3 years and is extendable for every block of 3 years if you have gained 60 PDUs (Professional Development Units). We will provide you the required guidance for obtaining the PDUs as part of our course content."
Is the certificate provided by Infocareer valid for PMI?
Yes. The certificate is issued by Infocareer. Over 15 years we are Premimum Authorized Training Partner (PMI-ATP) for PMI, USA
Will this certification help me find a good job in management?
Yes. The industry values the PMP certification very highly.
Is this course aimed mainly at the software industry?
No. The course is common for all industries such as manufacturing, construction, Pharma, Telecome, Defence, software, automobile, defence, oil and gas, power, healthcare etc., Basically, anywhere where you see work as a projects to create value (Tangible or Intangible or Both).
Is there any other kind of support provided after the training?
Yes. We will provide you with post-training support by allowing you 5 months access to our online mock exam portal. And also assess you before you go for final exam with pmi
What are the advantages of PMP® Certification?
The median salary for project professionals is 16% higher globally (and 32% higher in the United States) than those without it.
90Million, Project management-oriented employees currently in projectized industries across the world
25Million New project management oriented employees needed to meet global talent demands by 2030
12Million New employees driven by expansion and 13 million driven by retirements
Career Growth
Global Recoginization
Salary High
Learning Global Practices in Project Management