CAPM Certification Training Course 
Welcome to our CAPM (Certified Associate in Project Management) Course! Gain a solid foundation in project management principles, equipping you with the skills to excel in this dynamic field. Learn key concepts and practical techniques to effectively manage projects. Our expert instructors, real-world examples, and flexible learning options ensure your success. Enroll today and unlock your potential as a Certified Associate in Project Management.
Why CAPM? Discover the Power of Project Management Certification
Don't settle for average—embrace the extraordinary power of CAPM certification. Seize the moment, conquer projects, and let your career soar to new horizons!
Meet Our Mentors
All our mentors are PMI Authorized training instructors having industrial experience of 30+ years.
Our team of Mentors comprises highly experienced and certified PMI-ATP instructors, dedicated to guiding and supporting you throughout your PMP journey with their expertise.
Partner with Infocareer to access a network of certified PMI-ATP instructors with extensive industry experience and a deep understanding of project management, ensuring top-quality training.
Why Infocareer CAPM? Unlock Your Path to Project Management Success!
Embark on your path to project management success with InfoCareer CAPM. Prepare to conquer the CAPM exam, gain valuable skills, and unlock boundless opportunities in the project management realm. Let us guide you towards a brighter future in the world of project management!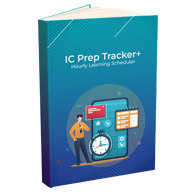 IC Prep Tracker+: Hourly Learning Scheduler
The Infocareer PMP-Assure journey starts with the Mentor creating a personalized plan for the PMP Aspirant, considering their declared target date. An 'Activity Tracker' is supplied for weekly updates, enabling progress tracking and ensuring accountability throughout the journey.
IC Application Assistance: Trouble-free application approval
To mitigate application process challenges faced by PMP aspirants our mentors conduct a thorough review of PMP aspirants' eligibility, project experience documentation, application requirements, project summaries, and supporting documentation. Aspirants receive a sample template for creating a draft application, which is then revised based on feedback before entering the details on the PMI site. A final verification step ensures a smooth submission process, minimizing any potential issues.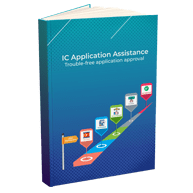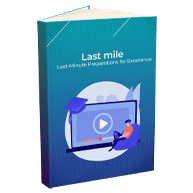 Last Mile: Last-Minute Preparations for Excellence
Elevate your PMP certification exam preparation to new heights with this comprehensive and concise audio lecture. Packed with valuable tips, techniques, and a summary of all topics, it equips you with effective strategies to streamline your last mile preparation and ensure exam success.
Road to project success: E-learning Companion
Discover www.roadtoprojectsuccess.com, a one-stop destination for comprehensive PMP preparatory online resources and exam preparation materials. Based on PMI Jan 2021 ECO, this platform offers complete coverage of all topics. Access videos, PowerPoint presentations, flashcards, supplementary materials, downloadable templates with sample projects, an ebook, and additional prep resources for practical usage and effective exam readiness.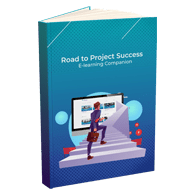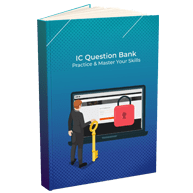 IC Question Bank: Practice & Master Your Skills
Infocareer's Learning Management Portal provides PMP aspirants with an extensive range of question bank aids to enhance their exam preparation. Topic-wise practice tests, categorized as Beginner, Intermediate, and Advanced, enable learners to assess their knowledge. Additionally, mock exams are conducted after completing all chapters, simulating the actual exam format and instilling confidence for success.
Mentorship: Transforming Career Potential
PMP Assure offers a distinctive mentoring support system for aspirants in various forms. The program spans 180 days, beginning with a planning exercise tailored to the PMP aspirant. Adherence to the scheduled activities is crucial, given the time-bound nature. The mentoring program includes regular interaction, feedback, and performance evaluation, providing valuable guidance and keeping aspirants on track.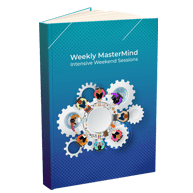 Weekly MasterMind: Inspire, Connect, and Thrive
Enhance your PMP certification preparation with our immersive Weekend Master Mind A sessions. Engage in interactive two-hour sessions, covering two chapters weekly, moderated by Subject Matter Experts. Interact with peers, expand your knowledge, and explore 20 PMP exam-like questions per chapter for valuable insights into answer choices. Unleash your full potential with these sessions.
Beyond Training: After-Training Support: Across Multiple Channels
Get comprehensive support throughout your mentoring period. We offer email and telephone support for all PMP aspirants. Telephone support is available Monday through Friday, from 10:00 am to 7:00 pm, while email support is accessible every day. Expect a response to your emails within 24 hours. Additionally, connect with facilitators conveniently through WhatsApp for further assistance.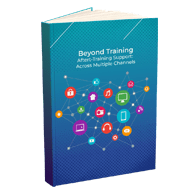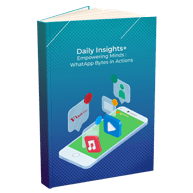 Daily Insights+: Empowering Minds : WhatApp Bytes in Actions
Stay engaged and motivated in your PMP preparation, even amidst busy work commitments. Join our daily WhatsApp group for a dose of learning and inspiration. Receive a flashcard, a question, and a success story each day. Participating in this group enhances your overall PMP readiness and serves as a constant reminder of your commitment.
Test Your Mettle: Your ticket to Exam: Test Your Readiness with Mock Exams
Assess your readiness with a comprehensive mock exam upon completing all topics. This crucial step in your preparation determines the optimal time to take the final PMP exam. The mentor and aspirant collaborate based on the assessment outcome, making a Go/No Go decision. It's a pivotal milestone in your overall journey.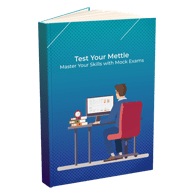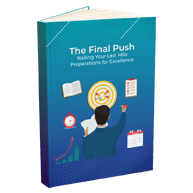 The Final Push: Nailing Your Last Mile Preparations for Excellence
Optimize your PMP preparation four days before your scheduled exam by undergoing three to four comprehensive assessments. Analyze the results to identify any knowledge gaps and receive tailored guidance from our mentors to address them. Fine-tune your readiness for the exam and boost your chances of success.
Acing the Big Day: Expert Guidance for Exam Success
Receive a pre-exam call with your mentor to combat exam anxiety and gain valuable guidance on exam approach. Prepare yourself mentally and emotionally for the exam, ensuring a focused and confident mindset. Leverage the support of your mentor to optimize your performance and boost your chances of success.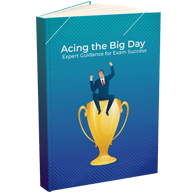 Infocareer PMP® Assure Roadmap
The duration and effort to be committed by the PMP® aspirants are indicated in the following roadmap: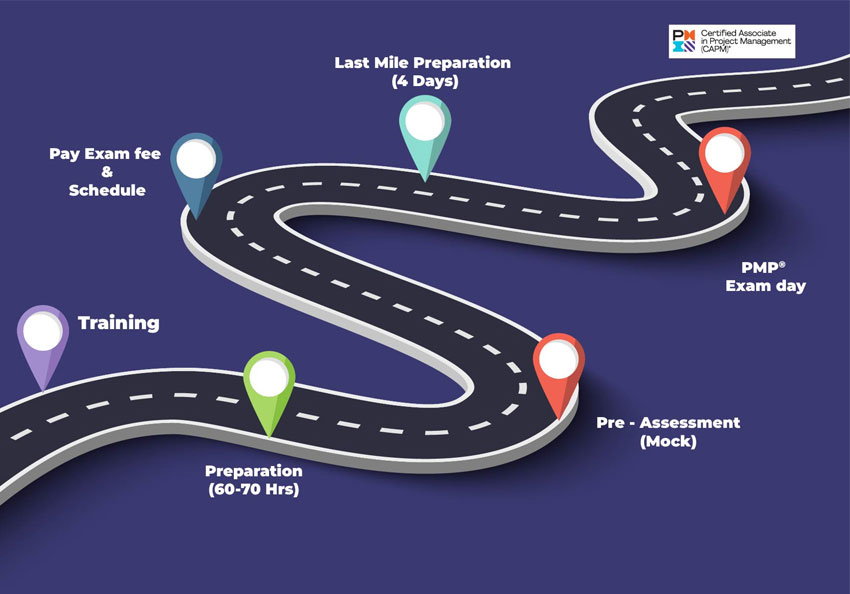 The roadmap is a two-stage approach. With the PMP® training which is a knowledge transfer session being the first stage followed by Mentoring which will help you prepare for the certification.
Infocareer Mentoring Roadmap
The various touch points of the mentoring program are depicted in the picture below.
All PMP® aspirants should be aware of this 180-day duration. However, the constant interaction and feedback from the mentor will keep the aspirants informed on their performance and their timelines.
Frequently Asked Questions (FAQ)
What are the benefits of obtaining the CAPM certification?
By earning the CAPM certification, you demonstrate your commitment to project management excellence, enhance your career prospects, and gain the skills necessary to effectively manage projects of various sizes and complexities.
Is there a prerequisite for enrolling in the CAPM course?
No, there are no specific prerequisites for the CAPM course. It is designed for individuals who are new to project management or looking to establish a strong foundation in the field.
How long does it typically take to complete the CAPM course?
The duration of the CAPM course may vary based on individual learning preferences and study pace. However, most learners complete the course within a few weeks to a few months, depending on their availability and dedication.
Will the CAPM course help me pass the certification exam?
Yes, the CAPM course is designed to provide you with the knowledge and skills required to pass the CAPM certification exam. The course content aligns with the exam syllabus and covers all the essential topics to ensure your readiness for the exam.
Can I pursue the CAPM certification if I have no prior project management experience?
Absolutely! The CAPM certification is an entry-level certification and does not require prior project management experience. It is an excellent starting point for individuals who are new to the field and wish to establish a strong foundation in project management principles and practices.
CAPM-Assure is a unique program offered by InfoCareer aimed at helping individuals achieve their first global certification in project management, specifically the Certified Associate in Project Management (CAPM) certification.
Who is the CAPM-Assure program designed for?
The CAPM-Assure program is designed for individuals who are new to the project management field or are just beginning their journey in project management.
How does CAPM Assure deliver the learning materials?
How can I evaluate my understanding of the CAPM material?
We provide a learning assessment engine and an extensive question bank to help you easily assess and evaluate your understanding of the CAPM material. This allows you to gauge your knowledge and identify areas for improvement.
What support is available during my CAPM journey?
CAPM Assure offers 24×7 email support and telephone assistance on all working days. Our dedicated support team is ready to address your queries and provide guidance whenever you need it.
Are there opportunities for collaboration with other CAPM aspirants?
Yes! CAPM Assure organizes weekly Mastermind sessions where you can interact and collaborate with peers who are also preparing for the CAPM exam. This provides a platform to exchange ideas, gain different perspectives, and learn from each other.
Will I have a personal mentor during the CAPM journey?
Absolutely! As part of CAPM Assure, you will be assigned a personal mentor who will work closely with you throughout your CAPM journey. Your mentor will provide guidance, support, and insights tailored to your needs.
How is progress tracked in the CAPM-Assure program?
We believe in continuous improvement, and therefore, we track your progress regularly. Our program includes constant monitoring of your progress, and we provide you with ongoing feedback to help you stay on the right track.
Can I rely on CAPM-Assure for my CAPM certification preparation?
Absolutely! CAPM-Assure is designed to equip you with the knowledge and skills needed to succeed in the CAPM certification exam. Our program offers comprehensive support, curated content, personalized mentoring, and assessment tools to ensure your preparation is effective and thorough.
How do I get started with InfoCareer CAPM?
To get started with InfoCareer CAPM, simply enroll in the CAPM-Assure program through our website. You'll gain access to the resources, mentoring, and support necessary to embark on your CAPM journey successfully.
If you have any other questions or require further clarification, feel free to reach out to our support team. We're here to assist you at every step of your CAPM certification journey!